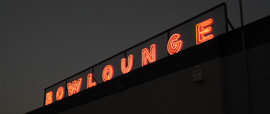 Really Good Bowling Food
We've got great menu choices for you guys over at Bowlounge. Some of the best fried and baked chicken you've ever had. Burgers, tacos, sandwiches, nachos, salads and more. All our sides are made from scratch.
Large seating area for big lunch groups. Outdoor seating on our patio with outdoor games.
Order a bucket of chicken, sides, and some biscuits... Capps Cheesy Frieds, Mac and Cheese, Nachos, Burger Baskets - It's all good!